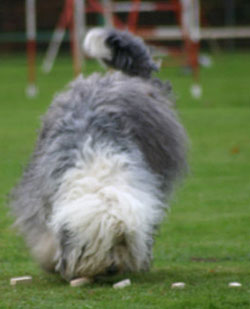 What can an OES do?
An OES can do anything? Really?

Once upon a time they were used to take care of sheep and cattle, since then… nothing, couch potatoes, good for nothing. Sure about that?
Well, let us have a closer look at Bahia. She was born on August 10th 2006, a daughter to Twinnie and Scott. She lives at the far away end of Finistere. A beautiful place where, whenever the weather is good, you can see the statue of Liberty on the horizon.
She and her boss, Yves, started competing in obedience a few years ago. Bahia loves it. She is a smart sweet heart who also attends dog shows.
Nowadays she competes in obedience class 3 and it seems that at that time she was the only OES in Europe who has made that level. Hard work and a lot of experience make her quite successful.
With thanks to Yves and well done Bahia!